It's irritating when you get blocked without any explanation. So, we decided to explain in advance the reasons and consequences of possible blocking. You are very welcome!
Reasons
As of today, Storiesgain service may block your account in the system for the following reasons:
We suspect that you provide fraudulent statistics;
We have found out that you edit account statistics screenshots or advertising campaigns using photo editing programs.
The first case might look like this: yesterday there were 7,000 followers in your account and there were about 100 reactions (likes/comments/savings) for each post. Today there are 15,000 followers, and there are a few times more reactions for each post.
This looks suspicious and it might mean that you got into fraudulent activities.
The second case is very simple. You decided to trick the system and, let's say, altered view in stories. We'll 100% detect this and will ban your account.
What shall I do in case I am guilty?
There's nothing you can do about it as your account is blocked and you cannot work in the system anymore. You will not be able to withdraw any money that you've earned through this system. But you will be able to withdraw money that you've put in the system.
What shall I do in case I am NOT guilty?
If your statistics have changed so much but fraudulent actions have nothing to do with it, then you have to send us proof of your actions that led to such sufficient increase. For example, you participated in a giveaway which usually leads to a sufficient onetime increase of number of followers and a lot of additional likes for the sponsor's posts. You have to send us a link to the competition account where you are indicated as a sponsor; show us the correspondence where you agree on participating as a sponsor in this giveaway. The more proof you give, the faster your account will be enabled.
If you didn't photo edit your account, but you were blocked for that reason, send us a video of you phone's screen. We shall see on the video how you open your Instagram app, go to "Archive", open your stories, open the screenshot that seemed suspicious to us, click the insight icon and show the views, audience and other data sections.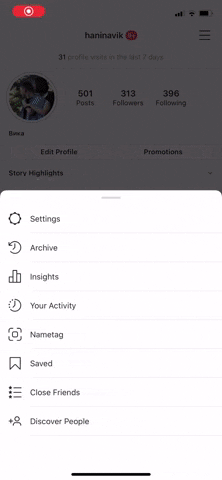 All proofs are to be sent to customer support service. Each situation will be considered separately, that is why we cannot tell you specific timing when your account will be enabled.
The money that you have earned in the system will be available for withdrawal only after you prove that your statistics is true.
What consequences might occur?
We do not put any "label of a suspect". That is why if you didn't take any fraudulent actions then there will be no penalties on your account after it gets enabled.
We don't want to kick anyone out of the system, but any fraudulent actions on page statistics or advertising campaigns will lead to complete account blocking in Storiesgain without any right to enable it again. We ask you to be honest. Let's be friends.